"S W A Y A M"
Centre for Pre-Vocation and
Vocational Training
for Economic Empowerment of Persons with
Disabilities and the Underprivileged
About SWAYAM
SWAYAM, a vocational training centre for rehabilitation and economic empowerment of persons with disabilities and the under privileged, with special focus on women and children.
This proposal gives you an insight into the philosophy and concept of SWAYAM. It also gives an annual budget required to run the Centre along with expansion plans.
SWAYAM
Location
D-39-A, Freedom Fighter's Enclave, Gate 4,IGNOU Road, Neb Sarai, New Delhi
Target Group

Disabled young adults

Under privileged young girls

Disabled and under privileged from villages

Under privileged women in the community.

Current Beneficiaries – 200 approx.

Young adults – 45 Children – 90
Women – 40 Disabled – 40
OBJECTIVES
To train young adults with disabilities and the under privileged in vocations, to enable them to economically empower themselves.

To try and find suitable employment for jobless young adults attending our programmes.

To run a production centre for paper and fabric products, providing employment to young adults with disabilities, and marketing such products for their economic empowerment.

Create Self Help Groups amongst marginalised women in the village communities.

To educate non-school going special and under privileged children belonging to rural communities through the NFE (Non Formal Education) programme.



VOCATIONAL COURSES

STITCHING & TAILORING
Basic training in stitching to empower young un-employed girls from the village to earn a living.
Number of beneficiaries – 40

Staff – 2
Course duration : 3 months


OFFICE MANAGEMENT & COMPUTERS
Basic skills in computer usage, operating FAX, File and Book keeping to enable them to seek employment as Office Assistants.
Number of beneficiaries – 20

Staff – 2

Course duration : 3 - 6 months


BEAUTICIAN COURSE
To empower under privileged girls to earn a living as a Beauty Assistant or work independently
Number of beneficiaries – 20

Staff – 2
Course duration : 3 months


NON FORMAL EDUCATION (NFE)
For children with little or no formal education in the surrounding villages.
Aim : To teach them hygiene, community living, impart basic education and counselling their parents to spread the message of literacy with special focus on girl child education.
Number of beneficiaries - 90 children


Other Activities at SWAYAM
Charitable Homoeopathy Clinic
4 days per week for 2 hours each. (Mon, Tue, Thu, Friday)

Provision for Blood Pressure, Weight and Temperature checkup

Qualified and experienced Doctor.

Medicines on 'free of cost' basis.
Short Term Courses (Proposed)
Pictures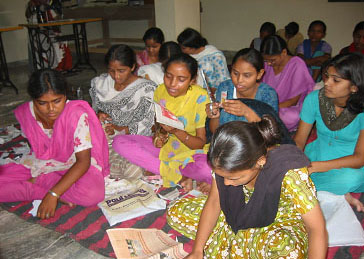 Non Formal Education programme, Cutting & Tailoring, Stitching classes, Computer training at SWAYAM