OTHER ACTIVITIES
Clothes Donation
ISHWAR conducted a Clothes Donation Camp to collect and donate clothes to the poor and needy.

57 families at the New Delhi Tuberculosis Centre of Lok Nayak Hospital benefited from this exercise.

The donees were patients suffering from Tuberculosis and so poor that they could not even buy medicines from the market. It is so difficult for them to provide the basics for their family that luxuries and technologies like mobile phones, computers, broadband internet-- are things they can scarcely imagine.
Shoes Donation
Sponsored by Lakhani Shoes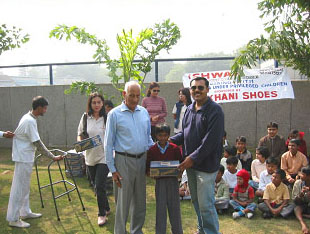 Shri Subhash Tandan, IPS, former Commissioner of Police, Delhi, Chief Guest, gives away the shoes (very kindly donated by LAKHANI SHOES) to special and under-privileged children at the Siri Fort Sports Complex lawns.
Stage Performance
ISHWAR'S CHILDREN PARTICIPATING AT CONVENTION HALL, ASHOK HOTEL, DELHI
ISHWAR's children participated in the opening skit of a fund raising event 'Sham-e-Sarhad' organised by NGO KHUSHII at the Ashok Hotel. Mr. Kapil Dev, Ms. Harveen Kapoor, Mr. Shekhar Suman, Mrs. Priyanka Gandhi, Mr. Balram Jakhar, Mrs. Sheila Dixit, Chief Minister; Mrs. Vandana Luthra and many other dignitaries graced the function.
The evening was brought to light by the sufi singers, Rabbi Shergill, Rahat Fateh Ali Khan and Safqat Ali Khan.
The 'Sham-e-Sarhad' at the Ashok Hotel, New Delhi
Stall at Bulgarian Embassy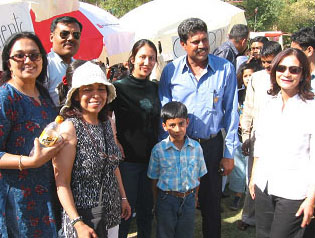 ISHWAR put up a stall at the Embassy of Bulgaria as a fund raising event, selling items made at ISHWAR's Centre for Creative Arts. The event was sponsored by KHUSHII and was graced by its 'sporting' President, and former Captain of the Indian Cricket Team, Mr. Kapil Dev.
Picnic at Apno Ghar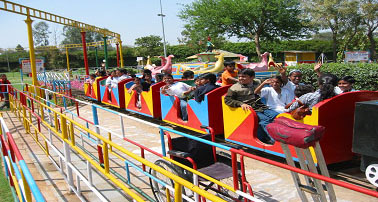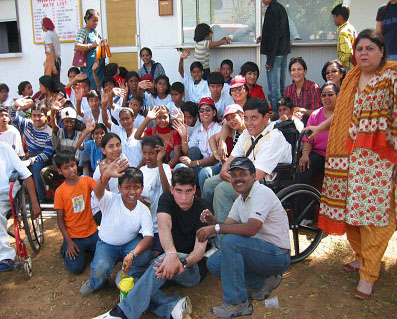 Joining of hands by ISHWAR and KHUSHII saw the children of both NGOs being taken for a picnic to Apno Ghar, Gurgaon. It was a real freak-out for the children with lots of rides, dance, music and food. The children with disabilities had no difficulty in enjoying the rides along with normal children, an aspect of social inclusion, the main aim of ISHWAR.
Stall at Diwali Mela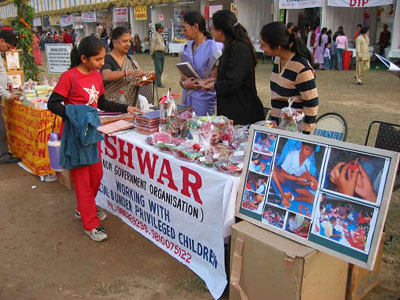 A fund raising sale at Sunder Nagar Diwali Mela. On sale were diyas, greeting cards, hand printed paper bags, idols etc.
Dance with Shiamak Davar
Shiamak Davar's Institute of Performing Arts trained ISHWAR's children in dance. The children later performed on all three days of Shiamak's Summer Funk Show at Siri Fort Auditorium, New Delhi.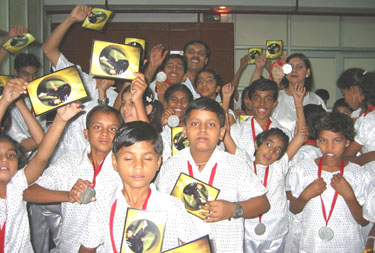 ISHWAR's children in jubilant mood on receiving medals from Shiamak Davar after their dance performance at Siri Fort Auditorium.
'SUPPORT A GIRL – ENRICH HER LIFE'
[ Education & Vocational Training for the Girl Child ]
The adverse attitude towards the girl child signals a catastrophe of serious demographic imbalance and degeneration of socio-economic conditions. In our male dominated society, girls are denied equal access to food, health care, education, employment and even simple human dignity. Here sacrifice and dedicated services ensure the well-being of the family, but in return, the girl receives neglected childhood devoid of proper education, health care or even happiness.
In India, the overall, girls' attendance lags severely behind that of boys. One of the major reasons why so many girls do not attend school is because of their workload, both within and outside the household. Daughters are often kept at home to help the family because the social and economic value of educating girls is not recognized. It is a fact that amongst the world's exploited child workers, girls outnumber boys.
Without access to education, girls are denied the knowledge and skills needed to advance their status. By educating girls, the society stands to gain economically as educated mothers usually have smaller families, with healthier and better-educated children.



ISHWAR'S aim is to :
Target the economically weaker sections of the society to provide education and vocational training to girl children whose parental income is less than Rs. 5000/- per month. To counsel parents and families where the girl child is kept at home to do menial jobs into admitting them to schools and vocational institutes.
The objective of this project is :
To help in creating an environment for girls in our society, especially the economically weaker sections, to blossom as a woman with respect and dignity.

Provide for school fees, books, school-uniform, tuition charges etc. for the school-going girls.

Provide for charges for vocational training to adolescent girls to help them pick up a profession of their choice.

Provide equipment to enable home-based working, where ever feasible, to uplift the economic status of the family.